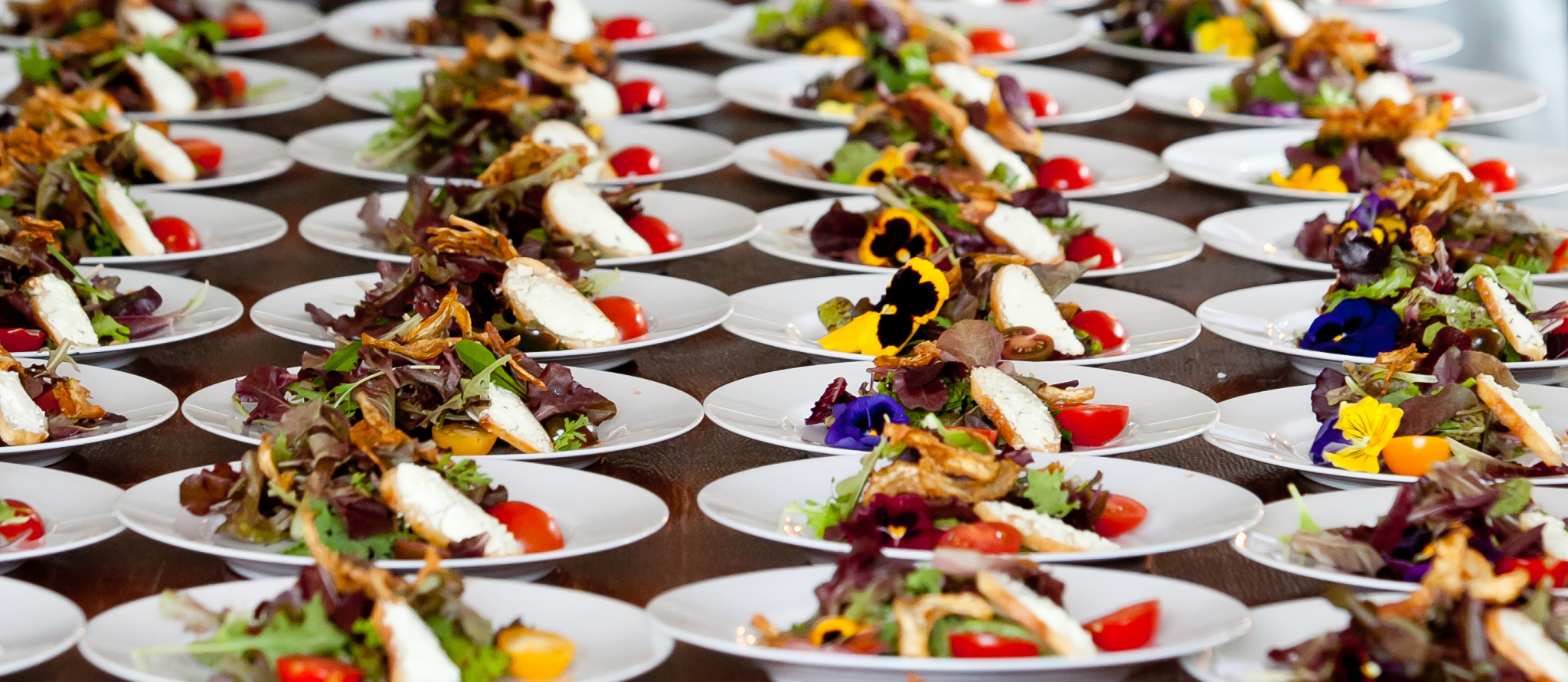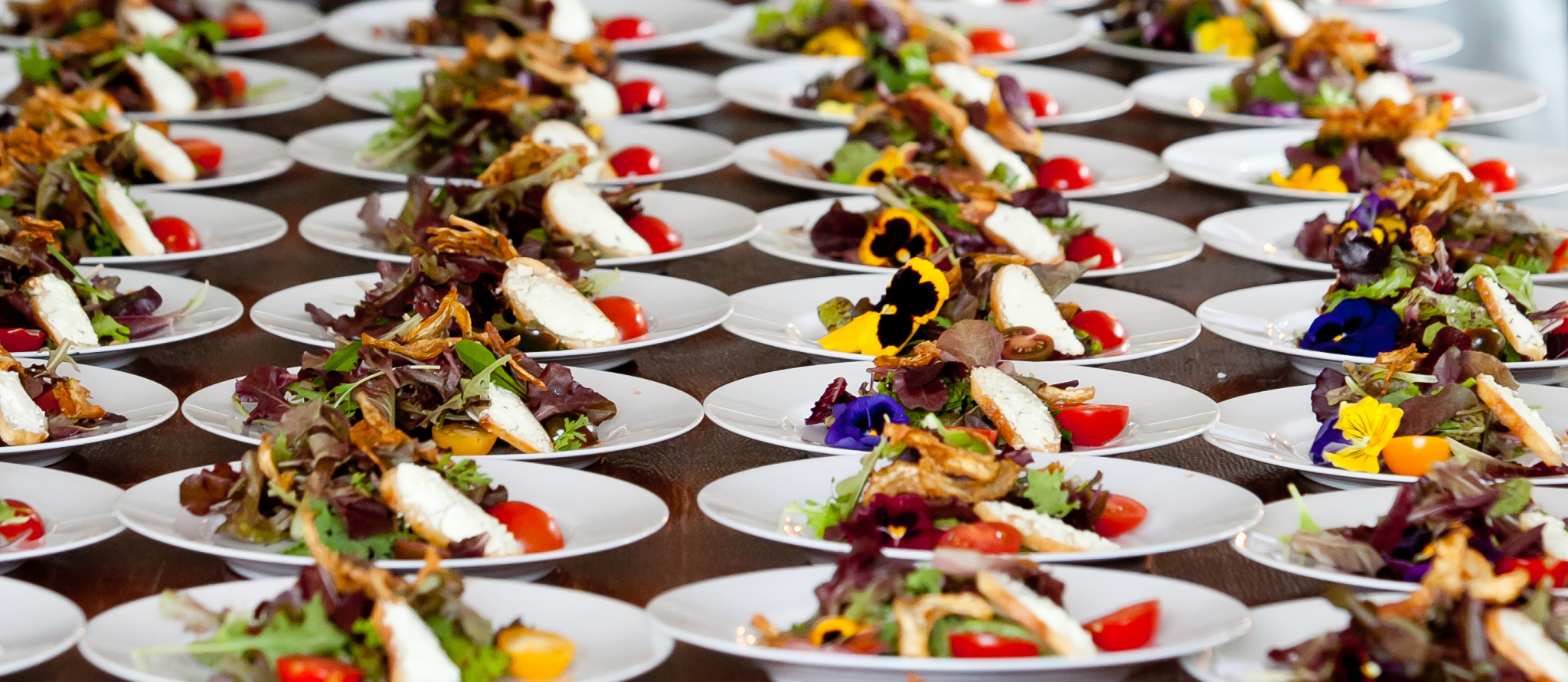 Want something more specific than our weekly menu has to offer? No problem! we do custom catering for all occasions.  
Below is a list of many of our more popular items, but our experienced chefs have tons of experience preparing a variety of exotic cuisines to whatever suits your palate; so, if you want it, we'll make it happen.
Call us today at 985-778-2668 to set up your next big event!
*For most of our appetizers we offer the choice to have them as a passed item or beautifully arranged on a platter for displaying them or just order a small side order of your favorites to compliment any of our other meal choices.
-Buffalo chicken bites-
Ground chicken meatballs seasoned with breadcrumbs, hot sauce and a parmesan and blue cheese mixture then baked until they are juicy and golden brown.
-Stuffed mushrooms-
Juicy plump fresh mushrooms stuffed with your choice of (Pork sausage and cream cheese, smoked salmon with cream cheese and dill, crabmeat, shrimp or a combination)
-Spinach balls w/ sun dried tomato pesto sauce-
Spinach mixed with breadcrumbs, parmesan cheese, eggs, roasted red peppers and Italian herbs and spices then baked and served in a bed of our homemade sun dried tomato pesto sauce
-Mini-Meatballs and sauce-
Your choice of ground beef or turkey with homemade marinara, pesto or sweet bbq sauce
-Bacon wrapped hot dogs-
-Bacon or prosciutto wrapped shrimp-
-Prosciutto wrapped asparagus-
-Southwest eggrolls-
Ground chicken, black beans, cabbage and roasted corn tossed in Spanish spices and hand rolled in won ton wrappers
-Stuffed jalapenos-
Fresh jalapenos overstuffed with your choice of fresh roasted corn, bacon and white cheddar green onion sausage and cream cheese –Surimi (crabstick), basil, sesame oil and cream cheese
-Quesadillas-
Choice of chicken, ground turkey or cheese and served with or without sour cream, salsa and guacamole.
-Zucchini bites-
Hand cut fresh zucchini stuffed with a green onions sausage and cream cheese mix.
-Boiled shrimp cocktail-
-Crabmeat ravigote-
Fresh lump crabmeat lightly coated in a homemade ravigote sauce
-Artichoke balls-
-Bruschetta-
Fresh grilled bread topped with fresh tomatoes marinated lightly with garlic, basil, salt & pepper, balsamic vinegar and olive oil.
-Mini twice baked potatoes-
Baked potatoes loaded with sour cream, cheddar cheese, bacon, green onions and butter then baked until golden brown.
-Smoked salmon mousse & dill stuffed Belgium endives-
Fresh Belgium endives stuffed with our homemade smoked salmon, cream cheese and fresh dill mousse.
-Olive medley-
-Fruit trays-
-Cheese trays-
-Antipasto trays-
Display of fresh sliced deli meats and cheeses with olives, fresh lettuce and other goodies
-Crab cakes-
Lump and claw crabmeat smothered with Louisiana seasonings and vegetables then hand battered and lightly fried until golden brown
-Cured yellowtail with an avocado mousse-
Honey and lime cured yellowtail hand cut and served with homemade avocado mousse on top
-Crawfish Beignets-
Café du monde style beignets for the flavor we are all accustomed too generously mixed with Louisiana crawfish and seasonings then fried till golden brown and served with remoulade sauce.
-Deviled eggs-
-Creamy spinach and artichoke dip-
Served with either tortilla chips or homemade pita chips
-Creamy black bean dip-
Served with tortilla chips or homemade plantain chips
-Hummus-
Choice of Sundried tomato and basil, Kalamata olive and feta, roasted red pepper and garlic or mix and match your own flavors and served with homemade pita chips.
-Spinach, artichoke and fresh jalapeno dip-
Served with tortilla chips or homemade pita chips
-7 layer taco dip-
Served with homemade plantain chips or tortilla chips
-Shrimp salad dip-
-Homemade shrimp ceviche-
Juicy shrimp cooked in fresh squeezed lemon and lime zest and juices and tossed with cilantro, fresh tomatoes, minced red onion, garlic, pineapple, avocado and cucumber.
-Eggplant caponata-
Fresh plump eggplant diced and stewed together with olive oil, capers, toasted pine nuts, raisins, vinegar and fresh basil.
-Salsa-
With our homemade salsas we give you the option to choose out of our many variations and are served with either tortilla chips, pita chips or our homemade plantain chips
-Choice of chucky Pico de Gallo style salsa or creamy Texas style salsa-
-Southwest black bean salsa w/ roasted corn, cilantro and fresh tomatoes-
-Grilled pineapple and jalapeno salsa-
-Mango, red onion, tomato and jalapeno salsa-
*For our salads we only use the freshest ingredients possible to give them that right out of the garden taste and we pair them with our fresh homemade dressings. We offer a few choices between some classics you all know and love as well as a long list of ingredients for you to build your own salad.
-Ceasar Salad-
Chopped romaine tossed with shaved parmesan, croutons, homemade ceasar dressing and choice of with or without grilled chicken.
-Mediterranean salad-
Spinach and romaine salad with Kalamata olives, feta cheese, sun dried tomatoes, pepperoncini, roasted red peppers, toasted pine nuts and served with our homemade roasted red pepper and basil vinaigrette.
-Caprese salad-
Classic style with fresh mozzarella, sliced tomatoes, fresh basil, balsamic reduction and served with our orange balsamic.
-Italian salad-
Spinach salad served with pepperoni, capicolo, Shaved parmesan, rosemary and garlic marinated tomatoes, olive salad, fresh basil and served with a roasted red onion vinaigrette.
Build your own salad
*Along with these choices we also offer anything else you could want or anything we forgot to mention
-Lettuce-
Romaine, spinach, kale, butter lettuce, iceberg or radicchio
-Cheeses-
Blue cheese, goat, shredded Swiss or gruyere, provolone, cheddar, feta, shredded smoked or regular Gouda, cotija, shaved parmesan,
-Fresh meats-
Salami, ham, bacon, capicolo, sopresatta or turkey
-Nuts-
Toasted almonds, pecans (spiced, sweet &spicy or toasted), walnuts(Candied, sweet & spicy, toasted or regular), sunflower seeds(toasted or regular), pumpkin seeds(toasted or regular), Crushed peanuts, toasted pine nuts
-Fresh vegetables-
Zucchini and yellow squash (grilled, sautéed or roasted), crisp bell peppers, crisp green beans, shredded carrots, cucumbers, black or green olives, roasted corn, French fried onions, pepperoncini, avocado, tomatoes(grape, sundried, cherry, creole or roma) radish, jicama, roasted bell peppers, shaved red onions, roasted butternut squash,
-Fresh fruits-
Mango, pineapple, grapes, apples, pears, melon, strawberries, raspberries, blueberries, blackberries, kiwi, oranges or peaches.
-Dressings-
Ranch, blue cheese, honey mustard, lemon/ginger & honey, ceasar, Orange balsamic, Raspberry vinaigrette, red wine vinaigrette, roasted red onion balsamic vinaigrette, cilantro lime vinaigrette, Dijon vinaigrette, white wine vinaigrette, pomegranate vinaigrette, molasses vinaigrette, sweet Vidalia onion vinaigrette.
We also offer our house made biscotti croutons, garlic & herb croutons & plain sourdough croutons.
-Creamed spinach-
-Balsamic glazed grilled vegetables-
-Sautéed green beans-
Fresh French green beans blanched and then sautéed together with onions, garlic and white wine.
-Slow cooked black beans-
Homemade black beans slowly cooked with Spanish spices and then garnished with fresh cilantro
-Smoked bake beans-
Sweet and smoky baked beans with chunks of ham and bacon
-Roasted and glazed sweet potatoes-
Sweet & spicy or regular molasses glazed
-Mashed potatoes-
Roasted garlic, wasabi, sweet potato, cheddar cheese, or fully loaded
-Grilled asparagus-
Fresh blanched asparagus marinated in fresh herbs, olive oil and garlic then grilled to perfection
-Roasted garlic Mac and cheese-
Elbow noodles tossed in a homemade cheese sauce loaded with honey baked ham pieces, bacon and caramelized onions.
-Goat cheese and thyme grits-
-Braised red potatoes-
Slowly braised red potatoes in a Blue cheese and rosemary cream sauce
-Grilled sausage, peppers & onions-
Italian sausage, pork, or Andouille grilled and tossed with sautéed bell peppers, onions, garlic and tomatoes
-Sweet potato casserole-
w/ pecans, brown sugar and marshmallows
-Stewed collard and mustard greens-
Slow cooked greens seasoned with Cajun spices and pieces of ham and red potatoes
-Sautéed kale with garlic, sweet potatoes and white beans-
-Dirty rice-
-Rosemary Roasted redskin potatoes-
Tossed in stone ground mustard then baked until crispy on the outside and soft in the middle
-Steamed vegetable medley-
Fresh seasonal vegetables steamed until tender then tossed with a white wine, onion and garlic sauce
-Succotash-
Fresh seasonal squashes sautéed together with lima beans, fresh basil, roasted corn, tomatoes and a splash of vinegar
 -Smothered green beans-
Green beans smothered in bacon, onions, garlic and red potatoes
-Coleslaw-
-Twice baked potato casserole-
-Glazed roasted carrots-
Roasted carrots tossed in honey, butter and cinnamon
-Honey butter grilled broccoli-
-Stuffed eggplant-
-Honey butter glazed roasted sweet potatoes-
Served honey & butter glazed or sweet & spicy
-Seafood stuffed potatoes-
Twice baked potatoes mixed with a hearty amount our seasonal seafood cream sauce
-Yellow rice-
-Garlic bread slices-
-Whole loaves fresh bread-
-Coconut Fried rice style Quinoa-
Served hot or cold
-Caprese bites-
Marinated mozzarella, cherry tomatoes and fresh basil
-Curried chicken yogurt satays-
Hand cut chicken marinated with curry and yogurt sauce overnight and then skewered and grilled and served with a Thai peanut sauce
-Sesame chicken satays-
Hand cut chicken marinated in sesame oil and Asian aromatic spices then seared and baked until golden brown and served with a wasabi cream sauce
-Mediterranean bites-
Olive, feta, sun dried tomato and fresh basil
-Jerk chicken bites-
Jerk marinated chicken skewered and grilled to perfection
-Lime and cilantro marinated avocado with grilled chicken, green onion and cucumber-
-Prosciutto & melon bites-
Served with or without goat cheese and mint
-Antipasto bites-
Various fresh deli meats and cheeses skewered together with olives tomatoes and other treats
-Fresh fruit skewers-
Fresh seasonal fruits skewered and served with or without being tossed in a yogurt sauce
-Fruit and cheese bites-
-Green onion sausage and pepper bites-
-Muffaletta bites-
Olive, provolone, salami, ham, and fontina cheese
-Bacon wrapped shrimp-
-Bacon wrapped steak-
-Sun dried tomato, feta and Capicolo-
-Fajita bites-
-Shish kabobs-
-Bacon wrapped scallops-
-Grilled shrimp tossed in sweet chili sauce-
-Sweet jalapeno tuna salad on buttery croissants-
-Grilled chicken and/or eggplant with a sundried tomato and cream cheese spread-
served on multi-grain
-Chicken ceasar wraps-
Grilled chicken breasts tossed in homemade ceasar dressing and parmesan cheese then wrapped in your choice of (spinach, sundried tomato, or jalapeno cheddar) flavored flour tortilla with fresh cut romaine lettuce
-Pinwheel sandwiches-
Tri-colored tortillas with a sour cream and onion cream cheese spread with your choice of turkey, ham, chicken or mixed and wrapped with mixed greens, spinach or romaine.
-Ham, turkey, or pork and cheese finger sandwiches-
Choice of white, wheat, or multigrain and your choice of dressed or not with cucumbers and iceberg lettuce
-Turkey and cranberry chutney with swiss cheese served on whole grain-
-Smoked chicken salad served on a buttery croissant-
Slow smoked whole chickens shredded and tossed in sweet jalapeno relish, grapes, walnuts, Dijon mustard, mayo, celery, onion, bell peppers and eggs
-Muffalettas-
-BLT-
-Smoked pork and coleslaw w/ pistolettes-
Our slow smoked pork in our homemade rub served with coleslaw and barbeque sauce
-Smoked brisket sandwiches w/ pistolettes-
Slow smoked tender brisket rubbed in our homemade seasoning mix and served with a horseradish cream
-Smoked pork shoulder-
Slow smoked and roasted pork shoulder seasoned with our homemade rub and served with barbecue sauce
-Prime rib-
Hand carved on site or served pre-cooked and displayed beautifully on a platter
-Smoked chicken-
-Sliced roasted pork loin-
Whole roasted pork loin generously seasoned with herbs and Italian spices and you have the option to have it stuffed, bacon wrapped or regular.
(Pre-sliced or carved on site)
-Sesame seed or black pepper crusted seared or grilled tuna loin-
served with an avocado mousse-And jalapeno pepper jelly
(Pre-carved or carved on site)
-Meatloaf-
Regular or sun dried tomato and feta (turkey or beef) served with gravy or sweet tomato sauce
-Frank's hot sauce injected smoked chicken or Cornish game hens-
Injected and then slowly roasted until golden brown and tender
-Sauce piquant-
Option of alligator, chicken & sausage or shrimp
-Chicken marsala-
Hand battered and pan fried pieces of chicken served tossed in onions, garlic, green onions, mushrooms, chicken stock and marsala wine then served over whole wheat pasta or fresh vegetables
-Catfish couvillion-
Lightly battered pieces of catfish pan fried and smothered in a creole style tomato sauce loaded with celery, onions and bell peppers then served with fragrant jasmine rice
-"Chris's famous" Red beans and rice-
Slow cast iron cooked red beans with a generous amount of honey-baked ham pieces, bacon and sausage served over fresh cooked white rice.
-Chicken & sausage Jambalaya-
-Seafood paella-
Generous portion of fresh mixed seasonal seafood selection seasoned with saffron, other aromatic spices and slowly simmered with seafood stock and tomatoes
-Chicken piccata-
Hand battered pieces of chicken pan fried until golden brown then topped with a lemon, white wine, caper, artichoke, onion, garlic and butter sauce.
-Do-it-yourself fajita or taco bar-
Kids love it!
-Eggplant or chicken parmesan-
Hand cut and battered pieces of chicken or eggplant pan fried until golden brown and served on either a bed of whole wheat pasta with homemade marinara sauce or fresh roasted vegetables and topped with marinara and shaved parmesan cheese
-Lasagna-
Thick pieces of lasagna with our homemade zesty marinara sauce, ricotta cheese, fresh herbs then topped with mozzarella and parmesan
-Shrimp & grits-
Creamy Louisiana seasoned shrimp and grits with pieces of Andouille sausage and fresh herbs
-Cabbage rolls-
Blanched cabbage leaves rolled with white rice and Italian sausage and lots of vegetables
-Grillades & Goat cheese and thyme grits-
Thinly sliced and tenderized beef round then seasoned and seared until golden brown then smothered and slowly braised until fork tender and served over creamy goat cheese and thyme grits.
-Indonesian chicken served with almond and coconut rice-
Hand cut and heavily marinated chicken thighs in ginger, coconut milk, bell peppers, onions, garlic, lemons and then served over fragrant toasted almond and coconut jasmine rice
-Fresh seasonal Seafood with alfredo, tomato, or aglio olio (garlic oil)-
-Pasta ponzo-
-Blackened shrimp with a vermouth cream-
-Sherried alfredo pasta-
-Sherried stroganoff-
Egg noodles tossed in a sherried cream sauce sauce with ground beef, mushrooms, shredded carrots, caramelized onions and aromatic spices.
-Pasta primavera-
Whole wheat pasta loaded with fresh vegetables, spinach, fresh basil and tossed in a sun dried tomato, garlic, white wine and olive oil sauce.
-Chicken or eggplant parmesan pasta-
Hand battered and pan fried pieces of chicken or eggplant on a bed of whole wheat pasta and homemade zesty marinara sauce then topped with shaved parmesan cheese.
-Asian stir-fry pasta with lo-mein noodles-
Loaded with fresh Asian vegetable medley, egg, (pork, chicken, or beef) tossed in homemade Asian spice mixture and served over a bed of lo-mein noodles.
-Andouille and shrimp with chipotle cream sauce-
Chunks of Andouille sausage and fresh shrimp Tossed in a creamy chipotle sauce with parmesan cheese, garlic, caramelized onions, fresh herbs and tomatoes.
-Fresh mushrooms, sage and Italian sausage with creole mustard cream-
Served with whole wheat angel hair pasta